Christmas 2018 at the Old Slaughterhouse
The festive season is finally upon us! Here at the Old Slaughterhouse, we are all very excited about Christmas and even more excited about celebrating with the community!
Christmas began at the Old Slaughterhouse at the end of November with our 1940s Make Do and Mend Christmas Installation. We have been so inspired by our work with Warwickshire's local Land Girls that we decided to extend this inspiration to a 1940s Christmas installation in our café area. Christmas was something that everyone looked forward to during the war. Famously, British and English soldiers ceased fire and played football on the first Christmas of World War One, which says it all: Christmas was clearly still an important time for people to come together.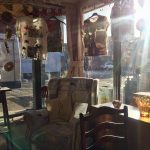 In preparation for our wartime Christmas installation, we gathered lots of work made by our community groups, such as bunting and items of clothing. We were also donated wartime Christmas decorations and we had a wonderful team of volunteers who helped us make decorations, such as Christmas angels, Christmas fans and paper chains. We only had one day to put the installation together, for which we say a massive thank you to our wonderful volunteers Hattie, Paul and Graham for all their invaluable help putting the installation together. The installation will be up until 21st December, don't miss out as it's very cosy in our conservatory!
To support our Make Do and Mend Christmas Installation, our very own Emma Stuchbury has been leading weekly Make Do and Mend Christmas workshops every Saturday in December with families in Stratford. On Saturday 1st December, we even got a visit from BBC Coventry and Warwickshire Radio, who came to see the installation, make a Christmas angel and interview Emma about a 1940s Christmas. Thank you for coming and supporting us!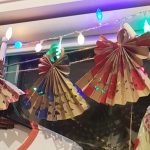 Emma has also been very busy as Chief Elf organising Escape Arts' Surprise Santa visits. With Father Christmas in tow, Emma has been working tirelessly to bring our grotto on the go to visit families who are unable to visit Father Christmas themselves. This year, Chief Elf Emma and Father Christmas are visiting more children than ever before, so give us a wave if you see the Escape grotto driving past!
Thank you to Joe Moore, Paul Mitchell, Martin Foster, Betty & John Fleetwood and Lorraine Davies for all your help in making the magic happen! To Emma, thank you so much for all your hard work in making these visits happen. You make so many people happy with what you do, we're very proud to call you our Chief Elf! We would also like to say a big thank you to everyone who has donated presents for our Surprise Santa visits. This year we asked for presents for all the family, so thank you so much, you have made whole families happy this Christmas. A big thank you to our Clopton Escape group for their super wrapping afternoon – we couldn't have done it without you!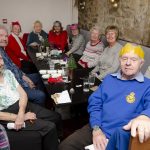 On Thursday 6th December, we reunited with our Veterans and Interesting Pensioners (VIPs) group for the final time this year with a very special Christmas meal at the Swan, in Kineton. In addition to our veterans, we were also joined by three of our Land Girls. Great fun was had by all and the food was delicious! We are very grateful to Carl Harrison, his chef team and all the staff at the Swan for making the day so special for us and your sterling service. We look forward to seeing you again for our Paper Moon Christmas party on the 18th!
As we move closer to Christmas, we still have lots of lovely events coming up. We still have lots of Christmas parties coming up over the next few weeks, including Christmas karaoke with Paper Moon, a party in Nuneaton and a staff, volunteer & participant gathering the week before Christmas. We still have one more Make Do & Mend Christmas workshop to look forward to this Saturday, where we will be making Christmas cards. The Old Slaughterhouse will then be closed from Friday 21st December 2018 until Saturday 2nd February 2019, when we will be opening a brand new exhibition focusing on maternity and growing up in the pre-NHS period to now.
We would like to say a big Happy Christmas to YOU from everyone here at Escape Arts & the Old Slaughterhouse. Thank you for supporting us for another year. Here's to a happy and healthy 2019, we hope it brings you lots of happiness.
We will look forward to seeing you again in the New Year! Merry Christmas!